Wake The Tiger's Bespoke Sound System
The AF Live team thrive on creativity. We work to captivate audiences with sound experiences that move, excite and inspire. That's why when we were approached by Wake The Tiger in Spring 2022, we were more than excited to help create a sound system that would bring their immersive amazement park to life.
Born from the Creatives behind Boomtown Fair, the new year-round arts and events venue allows visitors to experience 27 different creative surroundings in a non-festival environment.
We worked with Wake The Tiger to design a bespoke system using over 70 Genelec speakers, supplied by Audiologic, to deliver a sound experience best suited to their requirements. From gaining Sound On Sound Magazine's 'Highly Commended Award' for the 8361 'The Ones' Smart Active Monitor to winning two accolades at the 2022 Technical Excellence and Creativity (TEC) Awards, Genelec is renowned for its sound solutions and computer-aided monitoring perfection.
Using Power-over-Ethernet (PoE) technology, the installed Genelec speakers deliver impressive performance over a single CAT cable with lower power consumption, making them the perfect match for motion-censored audio-visual effects across different spaces.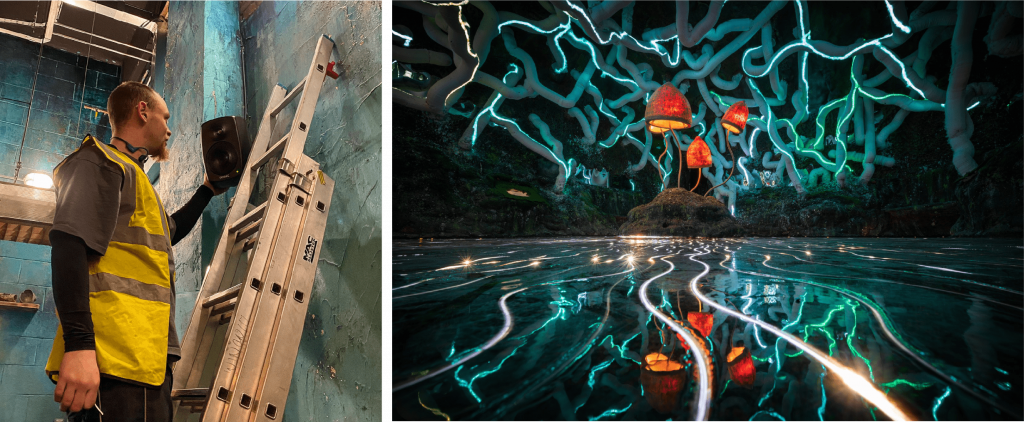 The system uses Ableton software to distribute 25 tailored audio sources across the amazement park, some of which utilise the excellent Dante (Digital Audio Network Through Ethernet) latency settings to synchronise with Wake The Tiger's video installations.
There are 48 points connected to a single Dante network using Gigabit-smart PoE++ switches in a star topology distributed across the park. These high-speed switches maintain a latency of less than 5ms across the entire installation.
The team continues to provide ongoing maintenance to ensure the best sound performance possible for Wake The Tiger and its many visitors.
This was a new type of installation for AF Live, and we're proud to have executed it for such a fantastic interactive art experience.

AF Live provide bespoke sound systems for various events including immersive art experiences, music festivals, sporting events, product launches, conferences, weddings and private functions. Click here to chat with one of our technical experts and let us design a sound solution for your event!